2014 - Our Year in Review
Glory to Jesus Christ!
Hello Everyone,
This past year, we had an interesting time trying to grow as a little Orthodox Mission Parish downriver, but were met with many challenges along the way. I truly believe that many groups would have given up, but we keep trying to stay together - Thank God! I would like to take a few moments to review our year and chart a course with your prayer, love and input. Tell me what you think.
We felt some incredible inspiration sending 2 of our teens to Chicago for the St. Herman Teen Retreat at the end of last year. The girls had a great time, made many new friends, and are looking forward to getting together again in the future. We are still hoping to be involved bringing the groups from other cities/states here soon, as well.
We also tried to create a new start in the downriver area by negotiating with a church group in Lincoln Park to try to buy their property. As it turned out, we could never get workable terms and was forced to move in a different direction, and through the course of this past year, it has been difficult trying to continue our ministry - both in the religious sense and from a social aspect without a specific place to gather.
With the Blessing of +PETER and a lot of help from Fr. Gregory, we brought Fr. Deacon Nicholas Olsen and his family to Detroit, but unfortunately, that didn't work out too well; and of course as everybody knows, we lost one of our founders, (my father) Sub-Deacon Peter to a sudden stroke that he never recovered from, but we did have some positive news:
We were able to celebrate many of the wonderful traditions of our Faith during Holy Pascha, from the blessing of palms and pussy willows to everyone gathering to write Pysanky. We even led a little procession (or parade as our little ones called it) in the parking lot during a Reader's Service at Holy Incarnation in Lincoln Park. Many of our Faithful were able to prepare for the Holiest of Holy Days by having their Confessions heard and most were able to partake of Holy Communion.
You also helped us throughout the year spreading the word, advertising/publishing articles in many newspapers and digital resources, and helping to promote our Faith and Traditions, for several events throughout the year including when we brought the 700+ year old Kursk Icon downriver to Holy Ascension Church (in Ecorse) to pray and celebrate with; and when we brought the Golden Gates Russian Dance Group to the St. George Greek Church in Southgate; and even when we attended the Konevets Quartet at St. Nicholas Greek Church in Ann Arbor
We took special times to pray for our Mothers and Fathers on their days and had a wonderful celebration at Bishop Park in Wyandotte for our Slava, All Saints Day. We witnessed and celebrated with Charles Bowser graduating from high school and are praying for his success in college now. We also went to a White Party at the lovely home of Jack Savas as an awesome event for our sister parish, St. Vladimir Church. We were very active participating in not one, but 2 Russian Festivals this past year. It was their second annual event at St. Vladimir and the 14th annual event at Western Michigan University in Kalamazoo. Pretty cool stuff!
Unfortunately, we were saddened by losing Greg Popoff and Catherine Bowser, who were both supporters of our Mission Parish, even though through their illnesses were not very active, but loved us as much as we did them. We also prayed really hard with Holy Trinity Ukrainian Church in Dearborn and their rector, Fr. Andrew Rogers as they just completed the tough decisions of closing and redirecting their Orthodox Direction and Focus. They were very generous by donating a couple of items to us for our future home. Our hearts go out to them and we have invited their faithful to come a visit and continue their Orthodox journey praying with us.
_____________________________________________________________________________
We have a lot of greatness still set in our future. The year 2015 can bring us joy, energy and positive influences in promoting our wonderful Faith to our neighbors and community. This is a time that we NEED to be together and continue the work of our ministry, but honestly, we have been struggling to keep going. We have several families of adults and children who are still waiting to be Baptized/ Christmated into our Faith. There are many people who have been watching us - hoping to see our excitement and growth, very soon ready to come to be with us, and honestly, we need them, too!
After several long meetings with Fr. Gregory, we both feel that it is time to reach out and take that next step. We still both believe in our hearts that there is a gigantic need to promote our Orthodoxy and be shepherds of our Faith. We have a lot to give AND there are a lot of folks who need us, too! Now is the time we need to gather, recommit, and chart a course through love and prayer, bringing the True Word to Everyone.
Hope to hear from you early and tell me what you can do to help and how I can help and what I can do for you, too. If you cannot be a part of our community, please all we can ask then is for you to pray for us. We have a wonderful, but long road ahead of us, and with His guidance, we are excited about what we can do.
In the meanwhile, enjoy our Year in Review in Pictures.
Your Unworthy servant,
Sub-Deacon Michael Boyar
St. Herman Youth Retreat
From December 26-29, 2013, our very own Claudia Bowser and Sasha Boyar, went on their very first Orthodox Youth Retreat. With chaperones Fr Gregory Joyce, SubDeacon Michael Boyar and about 25 folks from as far as the top of the Upper Peninsula to Cleveland and Cincinnati, Ohio; Indiana, Illinois, Kentucky, as well as Ann Arbor and Battle Creek, Michigan, they had a Great Time - And Yes, we have pictures! Here is their report:
_____________________________________________
.
.
Time for a Prayer of Thanksgiving and a Moleben for a fruitful and successful pilgrimmage exploring and understanding our Holy Orthodoxy and all of the amazing Miracles it will bring us! After, we begin to meet each other and learn some cool things with an exciting Icebreaker.
.
PUTTING OUR FAITH TO ACTION: We went on a Road Trip to the Rockford Rescue Mission to tour the facility and understand their importance in the community, then on with the latex gloves and hair nets as we all worked really hard on projects they needed help with.
.
On Saturday morning, after morning prayers and breakfast, we all gathered in the common area to listen to Fr Peter and Matushka Jackson talk about their new mission project: Bringing Holy Orthodoxy to Guatemala. With very high aspirations, they are leaving their comfortable surroundings in Buffalo, New York to help establish an Orthodox Seminary in the High and Dry mountains of the northern region. These former Protestant missionaries are returning to her native lands to bolster a growing Orthodox Church. Please Pray for them.
.
ROAD TRIP
And we are off! First, today's travels will bring us to the Freeport Museum to spend a couple of hours learning about Abraham Lincoln (and the Lincoln/Douglas Debates), Jayne Addams, and where hearses originated. Capping off the adventure, we saw many old time cast kitchen tools and toys, as well as touring a prominent home of a wealthy family in the area.
.
On to the Best Part of the Trip: St. Vladimir Vladimirovo - Lost Lake. A true hidden gem, this beautiful campground is designed, themed and operated by our own Russian Orthodox Church Abroad! Even in the middle of winter, the outside of the place has so much beauty to offer, whether you hike over the roads or plan to do some ice fishing. With the truly skilled woodworking in the little red chapel, or the russian themed warming area/banquet hall up the trail, we immediately felt at home.
.
Before we start on our 6 hour journey home, His Grace, Bishop Peter wanted to spend a little time with our dedicated pilgrims. Taking them into the chapel, they had a nice time asking him questions and listening to some of his fantastic stories. As difficult as it is to get some dedicated time from a very busy hierarch, everyone was appreciative for the experience.
From the bottom of our hearts, we would all like to Thank Vladyka PETER for blessing this wonderful pilgrimmage and watching us get a better understanding of Holy Orthodoxy at its best. Special Thank you to Fr Daniel Marshall and Fr Gregory Joyce for their hard work and dedication to this project; and to SubDeacon Michael Boyar (Papa), SubDeacon Raphael Scrocci and Leta Nikulshina for their dedication to this project and to the presenters, directors and clergy, who took the time to come and teach us our future.
Claudia and Sasha
.
.
Holy Theophany - January 19, 2014
On the Eve of The Theophany, Fr Gregory Joyce celebrated the Divine Liturgy with Blessing of the Waters at St Vladimir Orthodox Church in Dexter, Michigan - and for us, as well. We appreciate everything he is doing for our little mission and pray a Celebration Thanksgiving to him, his family and his flock at St. Vladimir - Thank you!
Mission Core Group Meeting - Pizza Time!
By direction of Fr Gregory to begin meeting again (after a series of issues) and an invitation of Fr Andrew Rogers to come and visit, we were recenty able to celebrate the Divine Liturgy with our brothers and sisters at Holy Trinity Ukrainian Orthodox Church on Normile Street in Dearborn.
It was really nice to be able to gather as a group and enjoy partaking in the Holy Sacraments. The folks at Holy Trinity are really nice and were very hospitable. Fr Andrew spent a lot of time with us and everyone seemed to have a great time. Thank you so much to them and we hope that we can get together again soon.
We then left for our meeting at Gracie Sees Restaurant just down the road, and we had a great time, while making some key decisions and began paving the way to enhance our future. Here are some fun photos:
Special Prayers for SubDeacon Peter
On March 9, 2014, we were able to visit Holy Trinity Ukrainian Orthodox Church and celebrate the Divine Liturgy with Fr Andrew Rogers and the faithful there and to offer special prayers for the health of Sub Deacon Peter Boyar, who had suffered a major stroke a couple of weeks prior.
It was a nice showing and the prayers were strong as we all joined together for a little lenten soup and shared nice stories.
Kursk Icon - March 15, 2014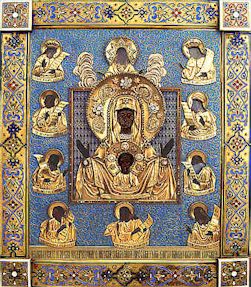 With the blessing of Bishop Peter, the

Kursk Root Icon

of the Mother of God came to visit All Saints Mission Parish on Saturday, March 15, 2014, where we had a wonderful opportunity sharing it with our Orthodox neighbors from 4 different parishes in the Dearborn and Downriver Areas at the Holy Ascension Serbian Orthodox Church in Ecorse, Michigan, by c
elebrating with an Akathyst, followed by a small reception.
This is a very significant event and extreme honor in the life of our newly formed parish. Not many Orthodox communities have had an opportunity to host the Kursk icon. God-willing, we are inviting you and your friends and family, as we wish many people will come to venerate the icon and bring their cares, troubles, and even thanks to the Mother of God. We know from the Church's tradition that she is the greatest intercessor before her Son on our behalf and thus there is great veneration for her among the Christian people.
To learn more about the wonderworking icon that came to visit our parish, please visit the links below.
Reader\'s Service for Palm Sunday
Glory to Jesus Christ!
Hello Everyone,
Because of the generosity of Fr Fenton and our brothers and sisters at Holy Incarnation Orthodox Church, we were able to gather last Sunday at their facility at 1385 Goddard Road in Lincoln Park.
This was also the first Reader's Service led by our new Fr. Deacon Nicholas Olsen, and being Palm Sunday provided us an excellent opportunity to step up (or start over) in preparing ourselves for the Holiest of all Holy Days - Our Holy Pascha next week! Everyone had their Pussy Willows and Icons, and it was really nice ending our celebration with a procession around the church property. We are really excited as this was the first step to help us get started again every week.
After we finished up at the church, we all went over SubDeacon Michael and Tanya Boyar's home to do our traditional Pysanky - the class that we teach in writing our Easter Eggs. This is a class that Sonia Boyar has been teaching for years now, and by how good our kids have gotten, it shows!
We are scheduled to return to Holy Incarnation on Sunday, April 27th at 2pm again. Notice how late we are starting. We will be scheduling a Mission Core Group Meeting to discuss our future and have a special plan to make a nice Sunday afternoon activity for the whole family.
If you need a ride, please call to set it up.
.
.
"Almost and Possibly Could Be An Annual Bowling Tournament"
On St. Thomas Sunday (April 27, 2014), Thanks again to Fr Fenton and our friends there, we celebrated another Reader's Service at Holy Incarnation Orthodox Church. Staying true to old Russian culture, this day allows us to highlight and celebrate the memories of our family members and friends for the first time since the Pascha Holy Day, so we mentioned them prominantly, including our newly reposed members - Memory Eternal!
Afterward, we were off to Belmar Bowling Lanes (on Fort Street in Lincoln Park) for our

"Almost and Possibly Could Be An Annual Bowling Tournament"

where several big and not-so-big kids bowled a couple of games and had some fun, followed by Pizza at Roma's Restaurant in Southgate (of course).
As you can tell by the photos, everyone had a great time (especially the twins) and we are already planning another fun activity for May
Hope You Can Put Us in Your Plans - Stay Tuned!
Mother's Day Reader's Service
On Sunday, May 11, 2014, Luis and Araceli Nino and their family opened up their home for us to celebrate our Reader's Service, with special prayers for our moms in commemoration of Mother's Day, followed up with a special barbecue only like the Nino's can do, with lots of great food and celebration.  It was Great!
Congratulations to our Mothers, Grandmothers, Godmothers and Special Mothers.  We will keep you appropriately in our prayers.
Memory Eternal Catherine Bowser
Please remember Catherine Bowser, mother of Charles (Patricia) of All Saints Orthodox Mission, who reposed earlier today (5/28/2014) after a suffering from her long term illnesses in your prayers.
May her Memory be Eternal!
Special Thanks to:
Professional Mortuary Services (Salowich and Stevens Funeral Home)
3833 Livernois Avenue (just south of Michigan Ave)
Detroit, Michigan 48210 - Phone - 313/894-1334
Who really helped the family in their time of need and with such professionalism
Pentecost - Prostrate and kneel before Our Lord!
On Pentecost - The Birthday of the Orthodox Faith, and the beginning of our yearly cycle, we were honored and privileged to be guests at one of our favorite parishes: Holy Ascension Serbian Orthodox Church in Ecorse, Michigan as the guest of Fr. Andrei Alexiev, Fr. Deacon Jerome Nietubicz and the wonderful people of the parish, including Reader Mark Alexiev, cantor at the church.
We all enjoyed a nice, inspirational Divine Liturgy on June 8, 2014, then prostrated and kneeled before our Lord as we humbly celebrated the start of a new cycle in our awesome Orthodox Faith. Afterwards, we all enjoyed the kind hospitality of our Serbian friends.
Konevets Quartet visits Ann Arbor
Pleased to welcome back to Ann Arbor, St. Vladimir Russian Orthodox Church, in concert with St. Nicholas Greek Orthodox Church, the Konevets Quartet. This outstanding male quartet has visited several times in the past and all their performances have been simply wonderful! The performance was at 7:00 p.m. on Tuesday, June 10 at St. Nicholas Church.

For a preview of the performance please visit this link:
https://www.youtube.com/watch?v=0C1KocYNUS4&feature=youtu.be

Admission was free, but they took up a free will offering at the end of the performance. If you could find in your heart to be generous in your support of these outstanding musicians, please feel free to send anything you can afford to St Vladimir Orthodox Church (9900 Jackson Avenue Dexter, MI 48130). There are also opportunities to purchase their CDs.

On June 11th, the Konevets Quartet sang for Liturgy at St. Vladimir's. It was really wonderful to hear this group in concert, but most of what they sing in concert is pieces from the Divine Services. It was a special Divine Liturgy indeed!
All Saints Day - 2014
What a Beautiful Day!
By the Grace of God, we enjoyed a beautiful day overlooking the Detroit River at Bishop Park in Wyandotte, Michigan to celebrate our Seventh Year as an organized mission parish in the Orthodox church.
Father Deacon Nicholas Olsen led an Inspirational Service that included beautiful music, readings and interaction with our youth and even lifelike Icon stands (which were really lives - our kids)! A truly appropriate ending to the day was trying to get Bruno to pose for a picture..
It has been a tremendous journey as we learned how to love and support each other, help and guide other parishes in need of our selfless services; and continue to now grow in a healthy and prosporous manner to share the Glory of God and to teach our children.
As we continue our journey into the wonderful world of Orthodoxy, I want to take a special moment to thank our Metropolitan Hilarion for all of his love and support; our Vladyka PETER, who supports us with everything we need as we continue strides into the future; our extra special rector, Fr. Gregory Joyce, who unselfishly and tirelessly plans and executes - working so hard for us and our future.
Please accept our love and gratitude as we move into what should be our best year yet!
God Willing!
Congratulations Charles Dean Bowser III
.
A Special Congratulations to our Charles Bowser III, son of Charles and Patricia Bowser, grandson of SubDeacon Michael Boyar and Laurie Woods-Boyar, and Great Grandson of Sonia Boyar graduated from Wyandotte Roosevelt High School - Class of 2014, with commencements on June 12th. He is officially our first high school graduate from our mission parish.
Mnogalya Lyeta - God Grant Him Many Years!
WOW - Golden Gates Performance was Awesome
All Saints Orthodox Mission Church, in conjunction with St. George Greek Orthodox Church, was pleased and honored to welcome the Outstanding Dance and Singing group: Golden Gates to Beautiful Grecian Center in Southgate, Michigan for a One Time Performance on July 21, 2014.
By a special arrangement made with our rector (because we were able to book them on such short notice), we did not sell tickets, but asked everyone to donate to the group's absolutely worthy cause to Benefit Russian Children - and people responded! It was a Great Family Event!
Over 30 people enjoyed an entertaining night of traditional music, dance and humor led by Vitaliy Bezrodnov and his entourage of college students, who were energetic, enthusiastic and fun! They performed several numbers, interacted with the group and everyone had a great time. After the show, most of the folks stayed around, talked to the performers and checked out the authentic Russian gifts and souvineers.

A special Thank you to Fr. Gregory Joyce and Fr. Anthony Cook, the generous hosts from St. George and our hostesses: Patricia, Sasha and Sasha.
Here is the link that The News Herald printed for us:
.
Russian Festival Event: White Party
In preparation and celebration of the Second Annual Russian Festival, All Saints parishioners were invited to the St. Vladimir Russian Orthodox Church White Party Event on September 14, 2014 at the beautiful home of Jack Savas in Ann Arbor. Not exclusive to just our families, they want it will become a fun annual activity, as they hope to expose others to Holy Orthodoxy and their parish family so they will get to know us (and hopefully join us!).
Dress code was ALL WHITE! Yes – that was the challenge, but that is part of the fun!
Some of the activities planned were kayaking, canoeing, and a great barbecue! Children are welcome and participating. Here are a few photos from there:

2nd Annual Ann Arbor Russian Festival
Our sister parish, St. Vladimir Russian Orthodox Church - Ann Arbor hosted their Second Annual RUSSIAN FESTIVAL on their grounds at 9900 Jackson Road in Dexter, Michigan on October 4-5, 2014.
It was a wonderful event that featured Full Entertainment by the Golden Gate performers, and several individual and local dance and music groups. There was an Incredible amount of Authentic Food and Drink, Special Contests and Kids Events (including puppet shows, chess competitions and jungle gyms/ bounce houses and russian kids' games. There was a lot of interest in Church Tours hosted by Fr. Gregory and don't forget Souvineers - Everywhere! It was truly a Wonderful Event!
We were so grateful to be a part of the whole thing. Below are some photos that we wanted to share. You can also go to their website at: www.stvladimiraami.org
.
2014 Kalamazoo Russian Festival
.
The Kalamazoo Russian Cultural Association (KRCA) had invited St. Vladimir and us to participate in the 2014 Kalamazoo Russian Festival (A Celebration Russian Holidays Theme) on Saturday, November 15th, at Western Michigan University's Fetzer Center in Kalamazoo, Michigan. It was very exciting to participate with all of the wonderful Performers, Educators, Vendors and of course, the Russian Cuisine!

The festival was very successful, attracting preliminary numbers of approximately 2,000 visitors of all ages! The Kalamazoo Russian festival continues to grow and is fast becoming one of the major cultural events in Michigan!
.
Here was a sample of the 2014 Festival schedule presented:
Kirsh Auditorium Performers
10:00am-10:45am BARVINOK Ensemble – Russian Music and Dance/AUDITORIUM
11:30am-12:15pm GEMINI – World Music for All Ages/AUDITORIUM
1:30pm-2:15pm BARYNYA – Traditional Russian Music for All Ages /AUDITORIUM
3:00pm-3:45pm AMERICAN TASTE OF RUSSIA – Russian & World Music/AUDITORIUM
Children's Room Entertainment
10:00am-10:30am JUGGLING JIM – Juggling performance/workshop for children
11:00am-11:30am THE KALAMAZOO BALLET ACADEMY- Folk Dance Workshop
12:30pm-1:00pm Visit from DED MOROZ (Father Frost) & SNEGUROCHKA (Snow maiden)
1:00pm-1:30pm GEMINI – Interactive World Music and Folk Tales
2:30pm-3:00pm BARYNYA – Folk dance & Russian language workshop
4:00pm-4:30pm BARVINOK Ensemble – Singing, dancing& activities for children
4:30pm-5:00pm Art Time – Coloring Russian Winter Holiday Character's
11:00am-11:30am BARYNYA – Music for Entertainment
1:00pm-1:30pm-- Special KRCA Guests: SHARON'S DANCE STUDIO Presents: Ballroom Dancing (Cafeteria)
4:00pm-4:30pm BARYNYA– Music for Entertainment (Cafeteria)
11:30-12:45pm—Dr. Inna Molitoris & Mr. C. Slape "Workshop: Symbolism in the Soviet Union"
1:00-2:00pm—Ms. Nina Vasilyevna Paulova "Russian Poems: Winter" (translations provided)
2:00-4:00pm—Ms. Lorraine Fedorchak-Kraker "Workshop: Making Pysanky Eggs"
11:00-12:00pm—Prof. Scott Friesner "Dostoevsky's Notes from Underground: 2 + 2 = 5"
12:00-1:00pm—Dr. Jim Butterfield "The US and Russia after Crimea"
1:00-2:00pm—Ms. Kate Koppy "The Snow Maiden, Father Frost, and Other Favorite Winter Characters"
2:00-3:00pm—Dr. Christine Rydel "Poetry: Bella Akhmadulina's 'Fairytale About the Rain'"
3:00-4:00pm—Dr. Edward Cole "Karamzin's Battle of Kazan: Fact or Fiction?"
4:00-5:00pm—Prof. Judith Rypma "Studying Abroad in Russia"
.
We had the opportunity to present Orthodox Christianity for those interested in learning more about it, or to help find parishes in the various areas of Michigan and abroad. We were able to relate to people of all ages with our volunteers. It was really fun, but exhausting, as you can see in the photos below, but we were already invited to and are looking forward to next year.
Our Future - Mission Core Group Focus
On July 6, 2014, everyone gathered at the home of SubDeacon Michael and Tanya Boyar for a little trip back to the Basics - a very inspirational Reader's Service, with love and lessons throughout the day as we all prayed for the Holy Spirit to come and guide us into a new and fresh start during a time a turmoil and uncertainty for our little mission. With the Love of God and Absolute Faith that we are on the right track, we prayed hard, then enjoyed a little social time, while prepping and ultimately having a Mission Core Group meeting that was very positive, directed and structured to move us into an uncertain, but brave future.
Many topics were discussed and a lot of hard decisions were made, and we are all very confident (as a group) that we will represent our Faith, Family, Community and Future very proudly. Watch for special announcements, activities and opportunities to pray together.
Glory to Jesus Christ!